A bus driver in Sweden Norway decided that his name was not cool/long enough so what did he do? He gave himself a name so badass, that we just had to tell you.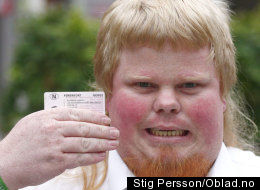 Andreas Jankov officially changed his name to:
Julius Andreas Gimli Arn MacGyver Chewbacka Highlander Elessar-Jankov.
So, let's quickly run down the meanings of his name:
Julius is an homage to the famous chimp at the Kristiansand Zoo
'Arn' is a Swedish knight movie
Elessar and Gimli are from 'Lord of the Rings'
'MacGyver', you know that show where the guy can make a machine gun out of a snorkel mask, a paper clip and some pieces of string.
'Highlander' could refer to either the movie or TV show, but there only can be one.
Chewbacka (TCM side note: We believe Andreas spelled this wrong, but since he is Swedish we will give him the benefit of the doubt. It should be spelled: Chewbacca) is from 'Star Wars'.
I bet you this guy gets laid like no other.
You can officially throw this name into the list of badass names along with:
Guts the Black Swordsman
Nemesis Enforcer
The End
King Bloodfeather
Doctor Bong (Our Personal Favorite)
Rooster Cogburn
I wonder if his wife has to take his extremely awesome last name. I'd marry the fucker just to take his last name….and who couldn't resist his Swedish mullet.